The Hog Riders with their mohawks riding a large hog are one of the most charismatics units in the game. With large hammer they can take down any structure while jumping over Walls! If you learn how to use this unit  efficiently you will gain significant advantage on a battlefield, therefore we create this short guide to inform you about some tactics that you can use.
The Hog Riders have moderate health, but they deals high damage per second. That is not all, they are extremely fast unit to train, you will need only two minutes to train one Hog Rider, which makes them inexpensive and reliable unit. They have favorite target and Hog Rider will attack any defensive structure on a map. That means that Hog Riders will parse any other type of building or structure, or even troops and attack any available defensive structure within a base. That makes them excellent unit for total destruction of defensive structures, specially that they can jump over the walls and take down archer towers, Mortars or other defensive structures. They will not attack Clan Castle because they do not consider it to be defensive structure.
When they take down defensive structures, they will attack nearby buildings or units without any preferred order. Hog Riders can jump over any Wall, regardless the level of the Wall which makes them the best strategy against high level Walls. They can jump over, but any support units will be left behind if you do not include other units like Wall Breakers into your strategy. That is very good combination to deploy a few Wall Breakers together with Hog Riders. You can even use jump spell on your Wall Breakers to increase their speed. Some players are using exclusively Hog Riders in some kind of barbarians rush, without any other unit. But, this is questionable strategy because Hog Riders are very expensive and in large amount they would cost a lot of Dark Elixir, so clash of clans hack may be a good solution to reduce the costs of production.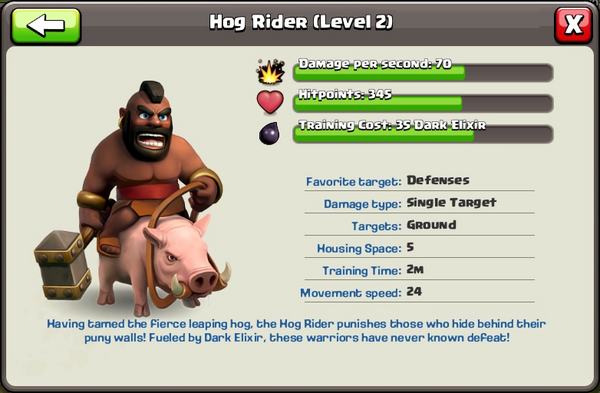 They are also very useful to distract other troops like Giants and they work well with the healing spell. If you decide to group them together you will get extremely effective offensive units, but take care, as we mentioned, it can be very expensive. Hog Riders are excellent for distracting Clan Castle units and you can deploy them to activate Clan Castle and them toward your archers, wizards or other troops.
Read More